Best Designer Bathroom Accessories Ideas From Scratch
Use Your Lockdown Period in India Wisely With These DIY Décor Ideas
Are you trying your bathroom to look more modular with low budget? Though there are designer bathroom accessories India manufacturers offering products at discounted rates, you can still recycle the old items and turn them into beautiful bathroom accessory. India is practicing 21 days lockdown due to coronavirus pandemic and people are just getting crazier every day. They are at home and want to do something productive. To change this depressive condition of the people, we bring few ideas that one can try at home and make over the bathroom like never before.
Let's begin the fun!
Recycle Old Mason Jars
Mason jars are flexible. You can use them for different purposes. In kitchen, they are being used as storing jars. In bathroom, you can use them to hold your toothpaste, toothbrush, flowers, earbuds, and cotton balls. You can even prepare body butter and store it in Mason jar and keep it inside your bathroom. They look beautiful yet simple. Moreover, you can easily clean them as they are made of glass.
Toilet paper holder with shelf
You can make your own toilet paper shelf. For that, you will need a wooden or solid shelf, 2 corner brackets and screws along with a toilet paper holder.
Cut, sand, and lean the wood shelf. Stain the surface using wood stain and wipe away using a clean rag of cloth. Seal the stain using polyurethane. Once dried, attach the toilet paper holder at the bottom of the shelf. Leave space for toilet paper to roll. Screw and fasten the corner brackets on the shelf side at which it will mounted to the wall.
Decide the placement and you got your first DIY toilet paper holder shelf as modular accessory for your bathroom.
Bathroom Storage Ladder
Ladders are beautiful piece of art. You can use them anywhere in most creative way to add beauty to the site. For instance, in garden, you can put it against the wall and allow climber plants to cover it with green leaves. In bathroom, you can save lots of space with the use of ladder.
You can reuse your old ladder and hang some fancy baskets as shown in the image. You can use the steps to hang your clothes or towel. This idea works best for small bathrooms. Yes, people having limited bathroom spaces can still get modular looks for their bathroom area using this idea.
Mug Organizer For Bathroom
Everyone have spare mugs at home. You just need to find bigger ones for this project. Take a wood plate and arrange the mugs you have (3-4 will be enough) on the board.
Wall Mirror
If someone tells that his bathroom doesn't have any mirror, he is clearly lying! Mirror and bathroom have a relationship. In case you are an artistic person and you want to add some creativity to your bathroom, you can make a wall mirror for bathroom. You just need a mirror, wooden frame, and tile and grout.
Rope made waste basket
Jute is a perfect naturally rustic textured material that can be used to prepare a waste basket. You just need few meters of jute rope and a hot glue gun for this project.
Wood Pallet Bathroom Towel Rack
Replace your towel bar with this aesthetic weathered wood wall décor. This is a cheaper yet solid DIY towel rack you can try for your bathroom space. You can make it using old painting frame. Just add wood frame at the back and screw 3-4 nails to hang towels or clothes.
Shampoo bottle and conditioner
Collect those old plastic empty bottles of same design and prepare stickers labelling shampoo, conditioner, body wash, and face wash.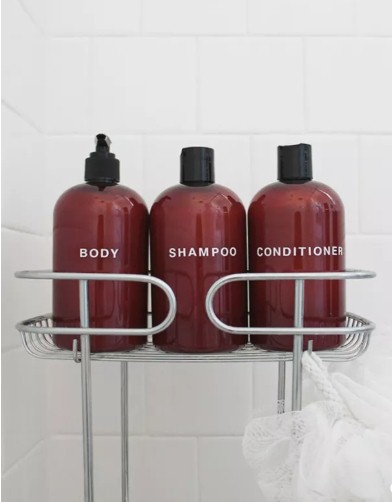 This idea will surely give a classic yet expensive look to your bathroom. Arrange these bottles in a basket near the washbasin or shower area.
Bath bombs and soaps
Bath bombs are not just look luxury but also add décor to your bathroom. You can find plenty of DIY bath bomb recipes online to start this project. Some tutorials even tell you how to make homemade beauty soaps.
If you want a quick fix to transformation project of your bathroom, you can make it happen by changing the hardware. New drawer pulls, toilet paper holder, faucet, and towel bars can transform the looks of the bathroom. Fixtures replacement can give a fresh look to your countertop. Due to present situation in India, all markets and several offices are closed down as per the notice issued by the government. Once this 21 days lockdown gets over, you can try connecting with designer bathroom accessories India suppliers and ask or desired hardware for your bathroom.