Manufacturers of pultruded FRP cooling towers and other models of cooling towers recommend cleaning of cooling towers at least twice a year. Industrial clients need to disinfect their cooling towers minimum two times a year. This maintenance will be performed prior initial startup when the cooling season begins and after shutdown in the fall. In other words, they don't only take initiatives to prevent corrosion and harmful bacteria, but also for providing better environment to the world. Cleaning and disinfection process can be performed manually.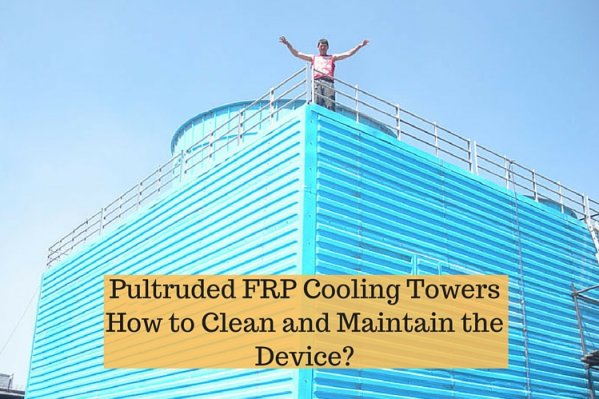 More clients have this cleaning service as part of their contract. The question comes that how cleaning can actually help you?
There are many components installed inside the tower that should be cleaned and maintained in good condition.
Cooling Tower Fan Housing Cleaning
You must carefully scrub and disinfect the fan housing. Since it is a common problem area, chemical treatment cannot be the only solution to hold the bacteria growth in these areas. Vapors born by air cause condensation and biological growth can be tough to remove with conventional on-line treatment programs.
The team that handles hygiene of the cooling tower will be responsible for cleaning and disinfecting the areas to prevent the growth and spread of airborne pathogens and lower the corrosion risk.
Cooling Tower Basin Cleaning
The basins of the cooling tower should be cleaned and disinfected properly. These are the larger critical areas as they see a large amount of cooling tower. Basin area pools and lets bacteria to grow. The water inside the basin is also tempered, oxygen rich and offers a great breeding platform for biological activity. By making great cleaning and maintaining practices, one can enhance the overall water treatment program.
Cooling Tower Distribution pan Cleaning
These areas are prone to clogging. You must remove the debris that left in the filter. All distribution pans need to be opened and cleaned offering increased water flow. If these areas left untreated, this can result in major increases in energy use.
The Costs and Pricing Model
Tower hygiene pricing relies on several factors like the size of the tower cells, number of cells, location of the tower and overall condition of the cooling tower.
For more details about pricing and costs, you can anytime contact pultruded FRP cooling towers manufacturers. Some of the suppliers and manufacturers also provide discounts to their valuable clients. May you get one of those partners for your cooling tower maintenance service.
Related :