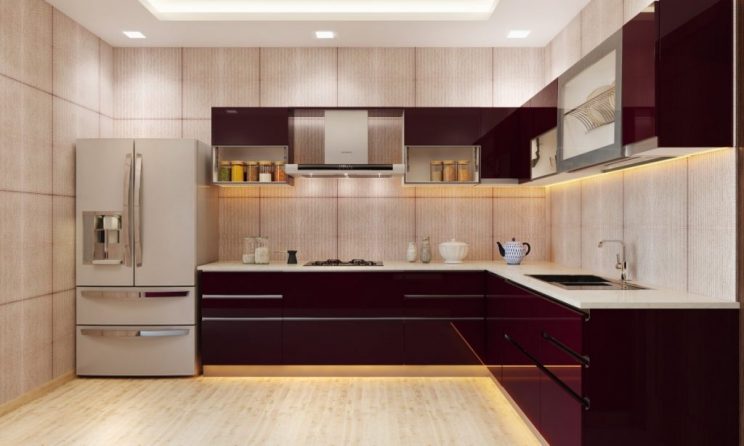 What to look into the designs and accessories for modular kitchens
A modular kitchen is a modern era kitchen fitted with advanced accessories and kitchen cabinets. For this modern times kitchen, an individual can select a variety of cabinets for a range of functionalities which come in "modules". These modules are made by manufacturing units in distinct sizes to suit several functions depending on which kitchen area the person would install and use the module. The modules are also made to available in numerous colours, finish, and styles that can affect the price a little.
Smart modular kitchens are awesomely customisable- you can select the cabinet layouts and types to achieve your storage requirements. You can turn them into most stylish, streamlined, and well-managed kitchen. These types of kitchens are popular with people having limited space. You can avoid those bulky cabinets that hardly meet your space and requirements and bring most effective units to save space and make best use of your kitchen.
Today, the kitchen hardware market is full of local and imported kitchen brands that ensure cost effective utility and functionalities. Modular design kitchen has number of advantages to offer-
Save time
As the manufacturing of modular kitchen is majorly mechanised in a unit built for purpose, the method involves lesser time as compared to on-site manmade carpentry kitchen.
Ultimate finishing
Laminates are used to the MDF or ply boards under a pneumatic or hydraulic press. This leads to level surfacing without any chance of bubble formation between sheet and the board. Moreover, these laminated boards are sealed through edge banding process.
Finish options
Several imported modular kitchen brands provide extensive range of finishes that cannot be made on site with the help of carpenters. These include stone veneer, acrylic, and stainless steel. These finishes and machine process offer seamless finish and provide premium look to the kitchen.
Integrated hardware
All modular kitchens provide certain hardware fittings that are easy to integrate into the design. Kitchen cabinets are specifically sized to meet the hardware demand leaving no gap.
Is there any way to make modular kitchen extra efficient?
If you are good at planning your modular kitchen, you can make it more efficient. Once you know the concept of modular kitchen, you can get ready for determining the cost-effective design ideas. The widely used elements of the kitchen layout are –
Floor cabinets
Shutters
Wall cabinets
Sinks
Oven
Dishwasher
Chimney
Stoves
Hardware
Countertop and more
By considering your kitchen area, you can get an efficient and stunning aesthetics. The shape helps determine the kitchen style. You may have a corridor kitchen, U shape or L shape, the amount of layouts vary as price. Indian modular kitchen designs are unlimited and thus many clients select the most fitted one according to their budget and style.
If you want more details on modular kitchens, you can consult a home interior expert or designer modular kitchen manufacturers to help you in selecting designs and cabinets.
Cabinet designs and furniture designs on display should be appealing. But there is a fact- not every layout is meant to suit your budget, taste, or style. If you don't bake, you can skip those built-in oven appliance model kitchen design. Just analyse your daily routine to ensure perfect design within budget. You can think about unique finishes like stone, glass as these look more interesting than laminated or wooden finish.
When to choose a modular kitchen?
 You may choose a modular kitchen option when you want luxury style and finishing and you have limited time. Imported modular kitchen has detailed finishing that a carpenter cannot carve with his tools. These types of kitchen are made in factory, which eventually reduces the construction time. Moreover, you can install a modular kitchen in less than two days without damaging the existing interiors.
Modular kitchens are flexible to assemble. These types of kitchens provide you with the convenience to shift your entire kitchen while moving from your home. These are perfect space savers. The shelves used in modular kitchens can help you save more space in your kitchen area. These kitchens allow you to fit your home appliances with the walls or shelves.
Manufacturing brands design modular kitchens to cater several needs of the customers. You can simply get customise models as per your wish, space availability, and personal choices. You can colour coordinate the kitchen and choose the contrasts that match with your home theme.
Modular kitchens are intended skillfully by manufacturers. These types of kitchens are popular in providing extra comfort, efficiency, and attractiveness to the person working in the kitchen.
Are you looking for renovating options for your kitchen? You may consider Olive Worlds, a renowned modular kitchen supplier and exporter across the world. Connect with them and share your requirements through fill up form they provide.