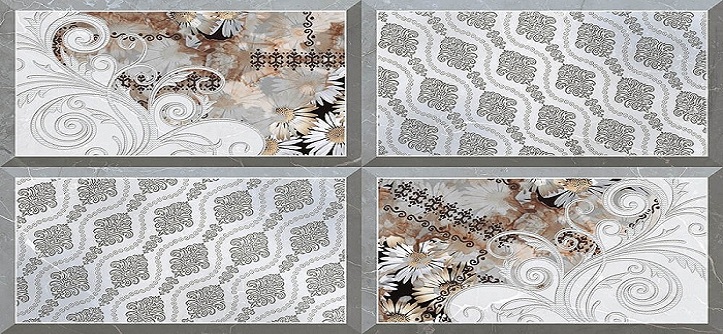 Designer wall tiles are not new. Artistic work by master craftsmen are seen on ancient buildings like mosques and palaces. The only difference is today is that such expertise is not confined to the nobility alone.
Designer wall tiles may cost more than their counterparts, but they offer a premium value for money. Yet, for most people the extra cost is a big deterrent. Truth is that the quality of generic tiles has improved significantly. Why then should one invest in designer wall tiles? The answer lies in its brand value, superior quality and returns.
Quality: Designer tiles are of a much superior quality. Since each tile is associated with the brand image, the manufacturer will pay special attention to the quality. Effectively, it means that only the best and proven techniques are used and each tile goes through rigorous quality check.
Exclusivity: Designer tiles are meant to be exclusive. Some designers will even create custom-made tiles, designed for a special commission. Which means that only you own this carefully created piece of art. This exclusivity is what makes them `a coveted item for home decorators.
Cutting-edge design: You may think of tiles as simple square and rectangle shapes, but designer wall tiles today literally come in all shapes and sizes. You can go for interesting geometric designs with no apparent symmetry. Not only do you get exclusive tiles, you can also get a surprisingly individual pattern.
Durability: Designer tile manufacturers promise not just quality and superior design, but also durability. Most designer tiles are produced by using the best of techniques and equipment with special attention to creating a long life. Some manufacturers will also offer warranties in case of damage.
Options: Designer tiles undoubtedly come under the high price bracket. Fortunately, today we have plenty of options for various budgets. You can go for bespoke tiles by a renowned designer or go for a more affordable option with a known tile manufacturer. Most tile companies today offer a top range designer option that is more affordable than the first option.
If even that seems too expensive, look for designer wall tile panels. Today you have a number of options that come into this category including backsplashes in kitchens or bathrooms! In fact, a specially created artistic tile can create a bigger impact than a whole wall of designer tiles.
Return on value: If it is the expense that balks you, think of it as an investment into your future! People do not usually see tiles as an investment option, but these can give you surprising dividends. Designer tiles are durable and the value of a good brand is likely to appreciate with time. We have also seen old tiles coming back in vogue, increasing the value of the overall property!
The wider availability of designer tiles has interestingly also increased its market value. It means that you now have more takers in case opt resale.
Designer wall tiles are luxury items, chosen for their exclusivity, brand value and top_notch quality. But they are also a valuable investment in your property.